© 2012 StraightHoops.com - An Hoops Media LLC Company
Terms of Service - Privacy Policy
No part of this website may be copied, transferred, or re-created without the express consent of Hoops Media LLC.
Hoops Media LLC reserves the right to take legal action against anyone who does not respect its intellectual property rights. ​​​

Contact Us HERE
NO BULL. JUST STRAIGHT HOOPS
July 22, 2014
​
By Anthony J. Fredella
​


C

LEVELAND, Ohio - ​​​​Okay, the NBA Draft is over, just about all of the big name free agents have chosen their new - or old - destination, and the Summer League wrapped up last night. Now, the only thing left to do now is argue about how good the Cleveland Cavaliers are - or are not - going to be next season. And that brings us to the topic that has the entire Hoops World smitten right now: should the Cavs trade for Kevin Love in a deal that would include #1 overall draft pick Andrew Wiggins?
It's a great debate because both sides of the deal can make valid, reasonable arguments for their position. With Kevin Love, you get an incredible stretch-four, a guy that can score 26 ppg and grab 12 rpg. A guy who, at 6'10 & 243 lbs, can dominate the offensive end of the floor both on the glass and from the outside. With Andrew Wiggins, you get potential, a lot of it. Wiggins has the type of athleticism that is not often seen in this league. He has also shown the ability to do just about everything on a basketball court. Yes, his perimeter game can use some work, and yes, he has to develop an ability to create his own shot. But he's only 19 years old. The tools are there, they just need some refining. At 6'8" & 200 lbs, Wiggins can handle the basketball, jump out of the gym, hit the outside jumper (but not yet consistently), rebound and, most importantly, defend. Wiggins can be a lock down wing, something the Cavs desperately need. So, knowing that, why would anyone willingly trade Andrew Wiggins?

Here's why: the City of Cleveland has not won a major sports championship since 1964 - that's 50 years. LeBron James, in the prime of his career, has come back to his home state to try and end that drought. Cleveland, despite not winning a title in half of a century, is a fantastic sports city, but the time is now for the Cavs. Their fans can endure only so much heartache. Management, and especially owner Dan Gilbert, want to win a championship yesterday. With that being the case, they will do everything within their power to give King James and the Cavs the absolute best shot, this season, to win the NBA title. In their minds, that may mean bringing in Kevin Love, at whatever cost to the Cavs' future. While Wiggins is a special talent, he is still sort of an unknown. Nobody knows how quickly he'll adapt to the NBA game, and nobody knows how quickly he'll develop into that lethal sidekick to James and PG Kyrie Irving. The only thing that the Cavs do know right now is that they don't want to wait 2-3 years, if not longer, for their own Big 3 to come around. So trading Wiggins for Love is - for them - going with the more sure thing. A bird in the hand is worth two in the bush, right? For the Cavs' front office the answer to that is a resounding "Hell Yea."

But here's why this potential deal is not the best of ideas, and why the Cavs should avoid it at all costs: the Cleveland Cavaliers, right now, are probably the best team in the Eastern Conference - at least on paper. Nobody knows how healthy Derek Rose is, or how effective he'll be when he comes back this season. At the beginning of last year he was supposedly 100% and "back to form," yet he struggled and looked like a shell of his former explosive self. And that's before he was hurt in just the 11th game of the year. Prior to that 2nd devastating knee injury, Rose was averaging just 15.9 ppg on 35.4% shooting. And the Bulls were just 6-5 in those 11 games. So whether he'll come back and be the Derrick Rose that won the MVP, or the Derrick Rose that is coming off of back-to-back knee injuries, we don't know. Adding Pau Gasol to the Bulls lineup is a phenomenal move, but if Derrick Rose is not the Derrick Rose we remember, well then, the Bulls, while having a tremendous frontcourt and the ability to play lock down defense, will still struggle to score. For that reason alone they can't be regarded as the best team in the East right now.

Cross the Pacers off of that list as well. With the way that they played in the 2nd half of the season and during the playoffs last year, no one can seriously consider them the Eastern Conference favorites for this upcoming campaign, especially after you factor in the loss of starting SG Lance Stephenson. The Pacers, at most, are the 3rd best team in the East. And while you're at it, eliminate the Heat. It's great that they re-signed Dwyane Wade and Chris Bosh, but they lost LeBron James – LeBron James!!! You don't just pick up where you left off when your best player – anyone's best player – leaves town. The Heat still need a steady, reliable point guard, perimeter defenders and a rim protector. They'll probably still make the playoffs, because the East is atrocious, but they will not – repeat, will not – challenge for the Eastern Conference.

So that leaves the Cleveland Cavaliers, a team that won just 33 games a season ago. But that doesn't matter anymore. Not when you bring the best player on the planet on board and add to that the #1 overall pick in a phenomenal draft class, as well as a few key role players. Like it or not, the Cavs are now for real, and that's without Kevin Love. So if the goal is to win as quickly as possible – like this season – trading Wiggins is not the answer. In fact, keeping Wiggins may be the answer.
If we have learned anything from the 2014 NBA Finals it's that you must defend to win a title. The San Antonio Spurs picked apart the Miami Heat on offense like they were a 7th grade CYO team. Tony Parker, Tim Duncan, Kawhi Leonard and Manu Ginobilli did what they wanted, when they wanted, and Miami had absolutely no answer for it. Do you know why? Because Miami could not defend them. The Heat could not get an important stop for their lives, and it was the obvious difference in the Spurs 5-game thrashing of the Heat. The Miami Big 3 could score, but that wasn't enough. So I ask you this, why form another Big 3 in Cleveland where two of the members are not incredibly talented defenders? It is no secret that neither Kyrie Irving nor Kevin Love are considered lock down guys. They can both score, Love can rebound, and Irving can run the point, but they are both pretty much liabilities on the defensive end. So, if the trade is eventually made, what will happen next year if the Cavs win the Eastern Conference and square off against the Spurs in the 2015 Finals? LeBron will be LeBron, but will Irving handle Parker efficiently? What about Love on Tim Duncan? So will it not be the same result as 2014?

But what about if the Cavs nix the Kevin Love talks and keep both Wiggins and Anthony Bennett? (You can bash Bennett all you want, because he was certainly terrible last season, but the young man looked promising and like a different player during the Las Vegas Summer League - 13.3 ppg, 7.8 rpg – hell, for all we know he could still develop into a quality role player off of the bench). But think about this rotation: Kyrie Irving at PG, Wiggins at SG, LeBron at SF, Tristan Thompson at PF and Anderson Varejao at C (with SG Dion Waiters, PF Bennett, PG Matthew Dellavedova, SF James Jones, SF Mike Miller and C Brendan Haywood off of the bench).

No need to discuss LeBron, you know what you get there - the best, most complete player in the league that can do everything on a basketball court. In Irving you get one of the most dynamic scoring lead guards in the league, who can put the ball in the basket in a variety of ways from anywhere on the floor. Think of him as a younger, less polished Dwyane Wade who can also run the offense as an effective playmaker. We'll see how he adjusts to becoming the 2nd option, but I'm guessing he'll not only be fine, but will thrive in that role. In Wiggins you have athleticism and defense, as well as scoring ability. Playing alongside Irving and James, Wiggins will have the benefit of being able to develop into an NBA player, instead of having to be "the guy" from the first day of training camp. But at the same time - while his offensive game is maturing - the Cavs will have a potentially lockdown perimeter defender and a rebounder to accompany LeBron. In Thompson and Varejao, should they be the starting front court, you get a combined 20 ppg and about 17-18 rpg, provided Varejao can stay on the court. Over the past four seasons Anderson Varejao has missed 182 games, so his health is an obvious factor if Coach David Blatt is looking to start the big fella. Thompson has been the complete opposite, a virtual iron man over the last two years, not only playing, but starting, in all 164 games for the Cavs.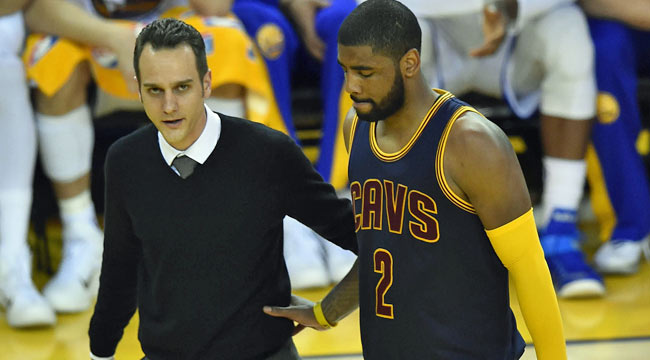 Off of the bench you can bring in Jones and Miller to knock down three's, and Dion Waiters, who has been an efficient scorer and will increase the offensive capabilities. Haywood is just another big guy that will probably only contribute 10-12 mins per night, but he'll clog up the middle during that time on defense and grab some defensive boards. Dellavedova was a pleasant surprise last season, playing in 72 games. His minutes may increase from last season, however, as PG Jarret jack was sent to Brooklyn to make room for King James. Although not a top notch backup PG, Dellavedova is fundamentally sound, plays defense, can run the offense, and knocks down the outside jumper off of double teams. He's no Jarret Jack, but he'll still contribute efficiently. And this is just as of today's date. The Cavs' front office is still targeting guys like SG Ray Allen, PF Ekpe Udof, PG Jameer Nelson, and SF Shawn Marion. With only a few dollars left in cap space it's pretty unlikely that they'll grab more than one of those guys, unless it involves a trade of some sort.

But right now, player-for-player across the Eastern Conference, it's hard to argue that the Cleveland Cavaliers are not at the top of the list both talent wise and athletically. The Bulls obviously have a better, deeper frontcourt, but D Rose – their only true scorer – is a huge question mark. The Pacers are talented as well, but our last memories are of them stumbling into the playoffs and scraping by into the East Finals – and now they lost a 14, 7 & 5 guy (Stephenson).

The Cavs are a team, with Wiggins, that can win 55-58 games this season and who are more than capable of advancing to the NBA Finals. Winning a championship? I don't know about that, but Kevin Love wouldn't help them beat the Western Conference – remember, Spurs, defense, and all that stuff? So trading away a 19-year old potential superstar to get to the exact same place that you could get to with him this season, is just nonsensical. If the Cavs are even remotely considering dealing Wiggins for Love we may need a fan intervention.

WHAT'S LOVE GOT TO DO WITH IT?