NO BULL. JUST STRAIGHT HOOPS.
Monday, May 23, 2016



OKLAHOMA CITY, Oklahoma - In a twist not many outside of the Oklahoma City Thunder's locker room, and its loyal fan base, could have imagined, the Thunder seized control of the Western Conference Finals last night with a drubbing of the Golden State Warriors by a score of 133-105. The win gives OKC a 2-1 series lead, with Game 4 still to play in Chesapeake Energy Arena tomorrow night. More importantly for Golden State, however, will be the status of star forward Draymond Green. If you missed it, which I doubt that you did, Green apparently kicked Thunder C Steven Adams in groin in the 2nd quarter of last night's game on a drive to the basket. The play earned Green a Flagrant 1 foul. It may also earn him a one game suspension from the league.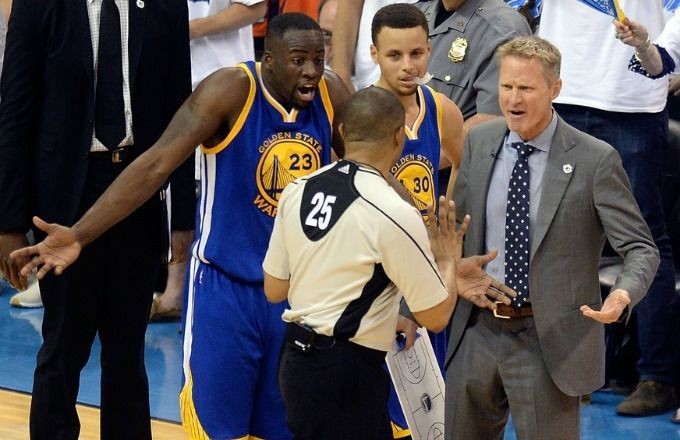 Draymond Green's position on the play was that he did not intentionally kick Adams, that it was "not on purpose." But of course that's his position. If he said, "Yeah, I kicked him in the nuts, he was pissing me off," well then, Green would have other problems to deal with. For now, Green's only concern will be whether or not he has a uniform on for Game 4. My guess is that he will not, based upon how the league has already handled a similar situation in the Eastern Conference Finals with Dahntay Jones. And if you ask me, suspending Green for a game is the right move. If you watch the video - you don't even have to watch it that closely - the raising of Green's leg when he strikes Adams is not a natural moment commensurate with the play he was making. Yes, his body was going up and collides with Adams', but there is no other type of contact that causes Green's leg to lift straight up 3-4 feet in the air directly into Adams' groin.
The question now begs of whether the Warriors can win a "must win" Game 4 on the road, already down 2-1, without the services of Draymond Green. You can argue that he really did not play in Game 3, scoring just 6 points on 1-9 shooting, but look how that game turned out. If you think for one second that Draymond Green is not a necessary component to the Golden State basketball system, and it's winning ways, well then you are sadly mistaken. Draymond Green is the type of do-everything player that is capable of scoring 35 points, grabbing 12 rebounds, dishing out 10 assists, and, most importantly, locking down one of the opponent's star players. You do not just call the "next man up" when someone like Green is missing. In his case, there is no "next man" who does what he is capable of doing. Don't believe me? Draymond Green missed one game this season. The Warriors lost that game 112-110 to the Denver Nuggets in a game where Nuggets' SF Danilo Gallinari, whom Green most likely would have been guarding, scored 38 points.
​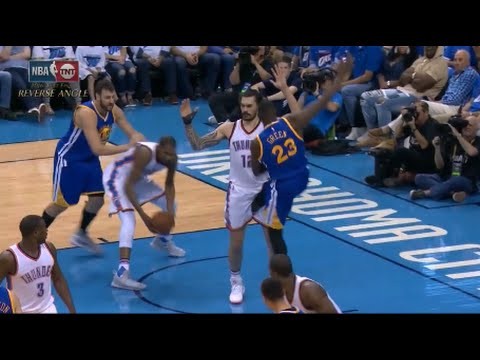 In all likelihood, I would imagine that Coach Steve Kerr would start SF Andre Iguodala in Green's place should he be suspended, and give him the task of trying to contain Kevin Durant. With KD already averaging 29.2 ppg, 8.0 rpgs and 2.0 apg so far in this series, you could argue that Green was already ineffective defensively and that maybe Iggy, with his ungodly athleticism, could shake things up in rising to the occasion. It's a valid point and it may hold somewhat true, but at this point, containing Kevin Durant consists of holding him to under 25 points. The truth of the matter is this: the Warriors are already facing a mountainous task in trying to come back from a 2-1 deficit against a team that is currently playing with a renewed sense of confidence, and who still has another game to play on its home court before having to go back out on the road. Throw in the x-factor for Golden State of perhaps being without one of its star players, a guy who just so happens to be a player that does all of the little things necessary to win, and you have a situation that no team, not even the 73-win, reigning World Champions, want to be in. Draymond Green's kick to Steven Adams' nuts may hurt the Warriors way more than it hurt Adams. In fact, it could be the "death blow" to Golden State's season.

Happy Monday.​​