© 2012 StraightHoops.com - An Hoops Media LLC Company
Terms of Service - Privacy Policy
No part of this website may be copied, transferred, or re-created without the express consent of Hoops Media LLC.
Hoops Media LLC reserves the right to take legal action against anyone who does not respect its intellectual property rights. ​​​

Contact Us HERE
NO BULL. JUST STRAIGHT HOOPS.
May 29, 2016

​​By Anthony J. Fredella

​​OKLAHOMA CITY, Oklahoma - Should the Golden State Warriors close out the Western Conference Finals in Game 7, the seasons of Kevin Durant and Russell Westbrook will be defined by a mere five minutes of basketball. Sorry, but that's just how it is. When you are considered two of the top five players in the NBA, and you have a seven point lead with 5:09 mins remaining in a closeout Game 6 of the Western Conference Finals on your home court, you have to finish the job. If you don't, it is all on you.

With 5:09 remaining in last night's contest, Durant, Westbrook, and the Oklahoma City Thunder held a 96-89 lead over Stephen Curry, Klay Thompson and the Golden State Warriors. From that point forward, it was nothing short of a Chinese fire drill for the Thunder, matched by a smooth, calculated fury from the Warriors. Over that time, OKC had thirteen offensive possessions. Of those, the Thunder passed the ball fewer than two times on twelve possessions, with an average of 0.7 passes per possession. Huh? Yes. Even more disturbing, Westbrook had four possessions himself wherein he did not attempt a single pass to a teammate, turning the ball over on three of those occasions and missing his one field goal attempt. Durant was equally as bad, missing all three of his shot attempts and turning the ball of twice during that same span.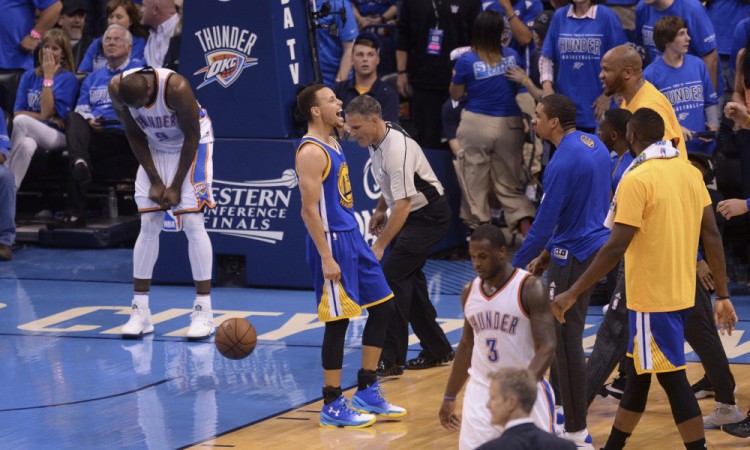 Call it what you want, but there is no getting around the fact that the Thunder suffered one of the greatest collapses in NBA Playoffs history. Should they arrive at Oracle Arena on Monday night and shock the world by knocking the Warriors off and advancing to the NBA Finals, Saturday night will be a distant memory. But nobody really believes that that is going to happen, right? I mean the body language and facial expressions of the Thunder players following Saturday night's debacle was a tell-all story. The Thunder knew they blew their chance. The Warriors knew that the Thunder blew their chance. Asking OKC to go into Golden State and steal another game this series, this one a Game 7 with all of the marbles on the line, with the Dubs still reeling off the emotional high from Game 6, is not only a tall order, it is borderline impossible. Yes, I said it, the Thunder are not only going to have to play the game of their lives Monday night, they are also going to need an enormous amount of luck to complete the task. After seeing what I saw Saturday night, I don't think Durant and Westbrook are up to the challenge.
​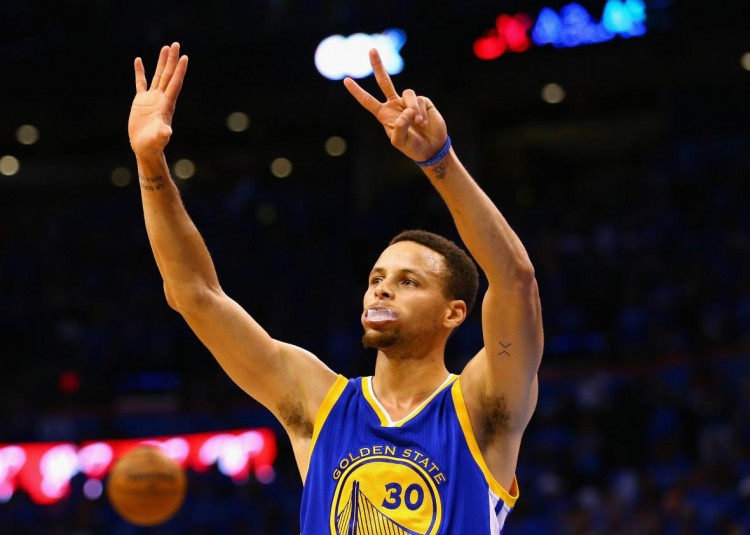 Instead, we will get exactly what most of the basketball watching world has been waiting for: a win by the Warriors and a rematch of last season's NBA Finals between the Dubs and LeBron's Cavs. For the Thunder, they get the consolation prize of thinking about what might have been all offseason long. They also get to think about whether the centerpiece of their team, all everything Kevin Durant, will return for another try in OKC, or opt to take his talents to a new location. Sounds like a shitty time to be a Thunder fan.